Content organisation¶
From a business perspective discover.swiss considers different tools and mapping methods to organize the content in the infocenter:
Region (AdmistrativeAreas)

Type and additional Type

Categories (tree)

Tags

Project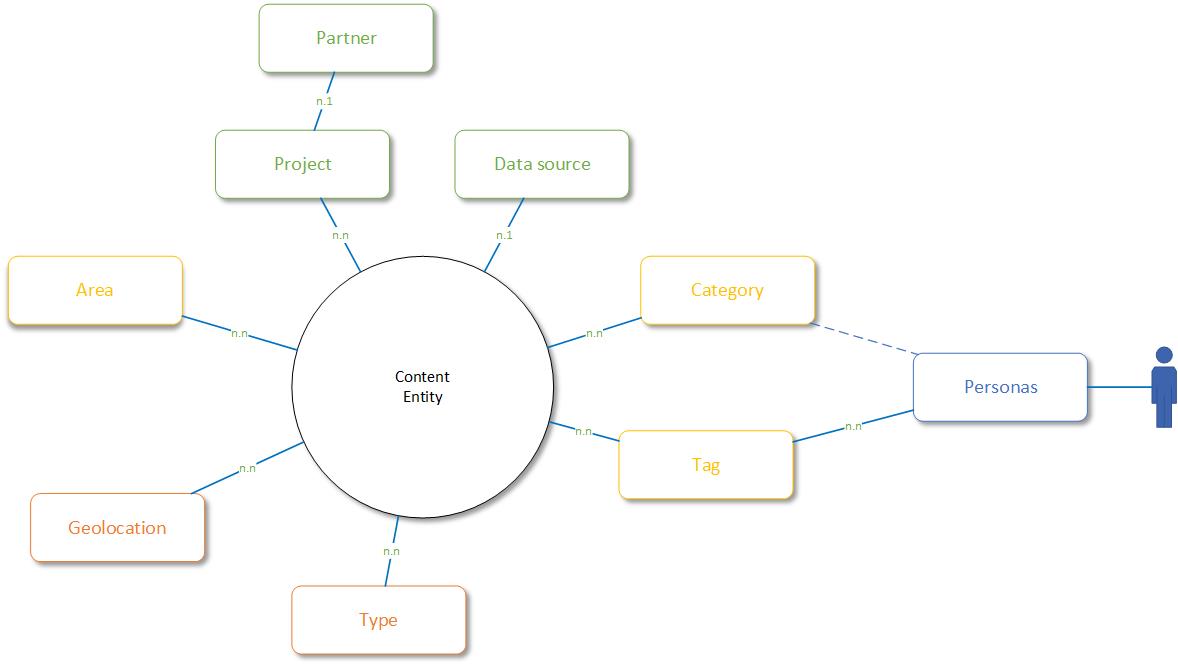 Regions (Areas)¶
Form a geolocation boundary, all data with geolocation within this boundary is part of it
Do not necessarily form a tree and can be overlapping
Categories¶
Form a tree (which should not be too big/deep)
Can be used for traditional navigation
Tags¶
Additional properties of the entity
Not organized in a hierarchy
Profile tags and campaign tags
Used in filtering and after search navigation (Facets)
Geolocation¶
Given longitude and latitude of the content
Address and postal code
On event; where it takes place
On Tours; where it starts (plus the line of the tour)
On AdministrativeAreas; the center (plus the boundary)
allows geo search (nearby, within, …)
Type & additional Type¶
Tour, FoodEstablishement, Area / city, Area / country, etc.
Given by the entity in the real world itself
Defines the available properties of the entity
Project¶
Used to assign content to a partner

Main filter on all content APIs (not on categories, tags, and administrative areas because these are the same for all partners)

A future feature: to control access to certain data by partner (subscription)
Principles¶
There are many ways to organize "things". However, no clear definition of how it should be. discover.swiss follows principles, to maintain the quality and to make it easier to handle the content. Especially, categories and tags are "overlapping".
Content is described with its properties about what and how it is and not how it is used

The organization system must be in a way that it allows all different views like:

personas

landing pages

overview pages

good search

In the connectors during the import, we map information in the source system to our organization
Note
discover.swiss is working with its partners to build high-quality data classifications, your feedback can help us to provide a service with maintained quality and accurate representation of each entity in real life. discover.swiss encourages you to be part of the process, contact us support@discover.swiss
Info
Here you can examine discover.swiss data classifications (Categories tree, types and additional types). Click to Download
---
Last update:
June 2, 2023 08:44:14