Partner Portal¶
The partner portal is the back office for all partners working with us to access all needed information and do what needs to be done in daily business. Our goal is to automate whatever is possible and provide full transparency and self-service.
Having access to a well visualized and user-friendly platform of our services from anywhere and at all times is just one of the benefits of the Partner Portal.
Environment
Be sure to use the correct URL depending on the Environment you're working for.
Overview¶
There are three navigation areas:
In the top bar you can navigate between the main areas of discover.swiss.
For each of the main topics a sub-navigation is displayed on the left side. For example, in the Infocenter area, you can view all available events in the system.
With a click on your user name you can open side navigation to open the partner profile or to be able to switch between partners if you have permission for multiple partners.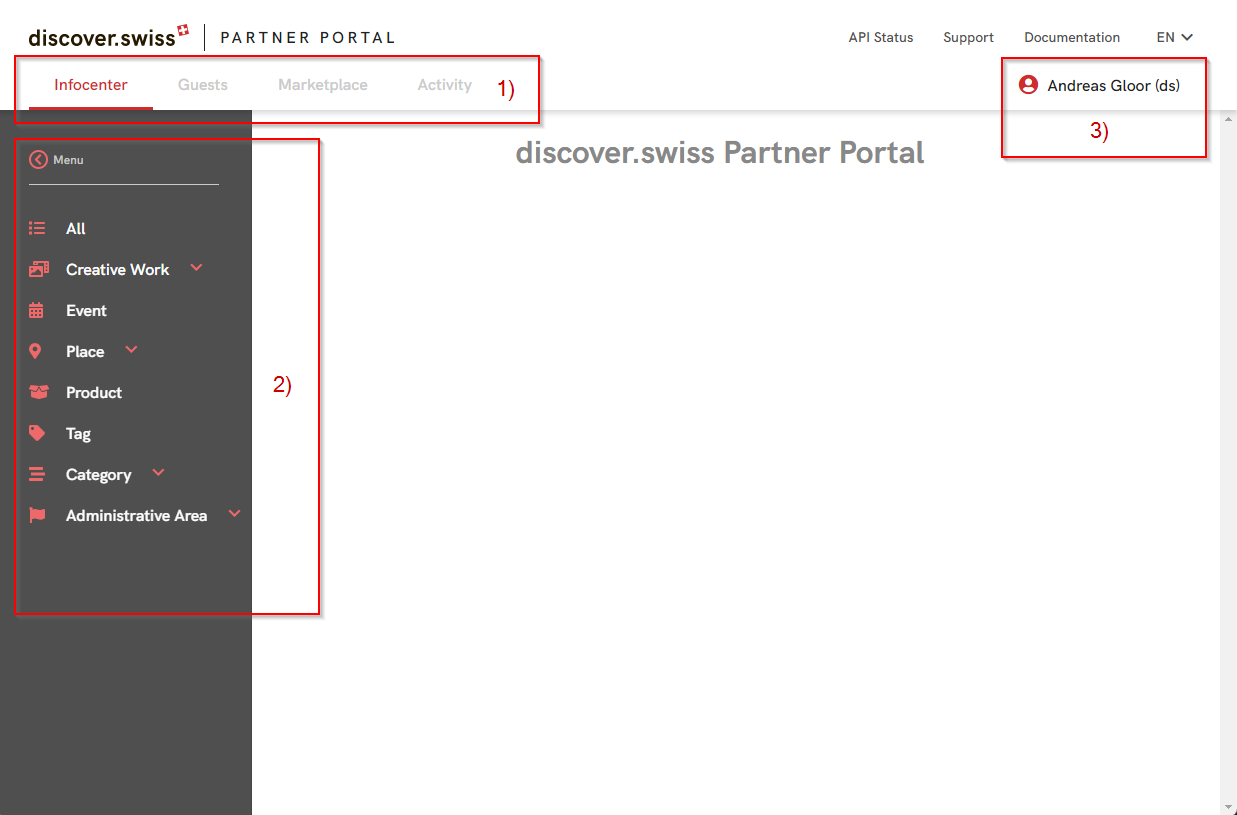 Infocenter¶
In the Infocenter section, all available data in our system is displayed and used for data management. In this area, you can assign projects, tags, and so on. Read more information on the Infocenter page.
Guests¶
In the guests section, partners can access profiles and profile-related data that are connected with them - their guests. Read more information on the Profile page.
Marketplace¶
In the marketplace section, partners can access the orders of their guests. Read more information on the Marketplace page.
Partner Portal access¶
To be able to access the partner portal you need to have a discover.swiss profile and the role 'ds_pp' assigned. Normally a discover.swiss employee will invite new users to the partner portal or an authorized person of an existing partner organization. For more details read on the Users Page.
Future Implementation¶
At the moment, some of the functionalities are not yet activated, discover.swiss is working continuously to make them available as soon as possible.
---
Last update:
November 22, 2023 07:12:48